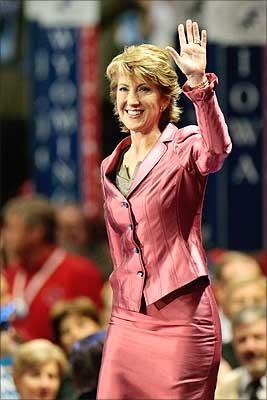 She was named the world's most powerful businesswoman for seven years in a row. She ran an empire as the chief executive officer of IT major Hewlett Packard before being sacked in 2005.
And now Carly Fiorina, who is US Republican Presidential candidate John McCain's chief economic advisor, has again been benched. This time she was benched for her remarks on McCain himself and his running mate Sarah Palin.
In an interview to a news channel, she said that neither McCain nor Palin was capable of running a large corporation. She went on to say that even McCain's Democratic rival Barack Obama and his running mate Joe Biden could not run a major business.
"A major corporation is not the same as being president or vice president of the United States. To run a business you have to have a lifetime of experience in business. Neither Sarah Palin, John McCain, Joe Biden nor Barack Obama has this experience. But that's not what are doing," Fiorina said.
The McCain staff admitted that the Republican candidate was very angry over the statement made by Fiorina and this led to her being taken off all public appearances.